Dime Business Debit Mastercard®
Keep your business moving no matter where you are.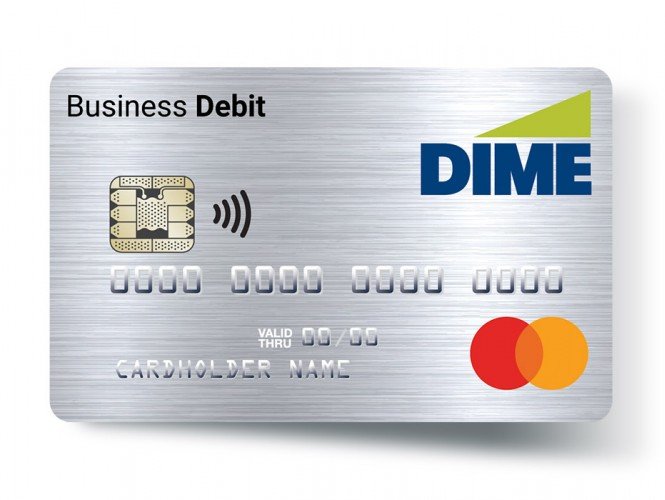 The Dime Business Debit Mastercard gives you:
Mastercard cloud-based receipt management
MasterRental Insurance – vehicle rental of up to 31 days
Intuit QuickBooks discount
TurboTax discount
Salesforce Essentials discount
Microsoft 365 discount
And more
Please see the Mastercard Guide to Benefits for Small Business for details on your Dime Business Debit Mastercard.
The Dime debit card helps business owners and their employees stay connected and stay in control.
The power of a single tap.
The security you need.
CardValet app
Gives you 24/7 control over how and where your card is used along with spend alerts to reduce risk.
Learn more
Contactless tap & go
Allows for faster checkouts and better security. Use anywhere you see the Contactless symbol at checkout.
ID theft protection
Expert assistance for victims of identity theft.
Fraud monitoring text alerts
With Dime Fraud Monitoring, you'll receive a text message if our system detects suspicious activity on your card.
Global service
24-hour assistance with lost and stolen cards, emergency card replacement, and cash advances worldwide.
The convenience you want.
Load it in your digital wallet
Use Dime Debit Mastercard to pay with your smartphone.
More ways to pay
Use your card online, set up auto bill pay, or pay with a swipe.
Make recordkeeping simple
Funds are deducted directly from your account, which you can see online and on the mobile app.
Mastercard Easy Savings
Get valuable rebates when you spend for your business at over 45,000 vendors nationwide.
Cards for employees
Control account access and spending limits to help employees pay for routine business expenses.
More services for you.
Download Dime Debit Mastercard Brochure
You can download a brochure version (PDF) of this page and its subpages by clicking the button below.